2020 Harley-Davidson Heritage Classic 114 in Riverside, CA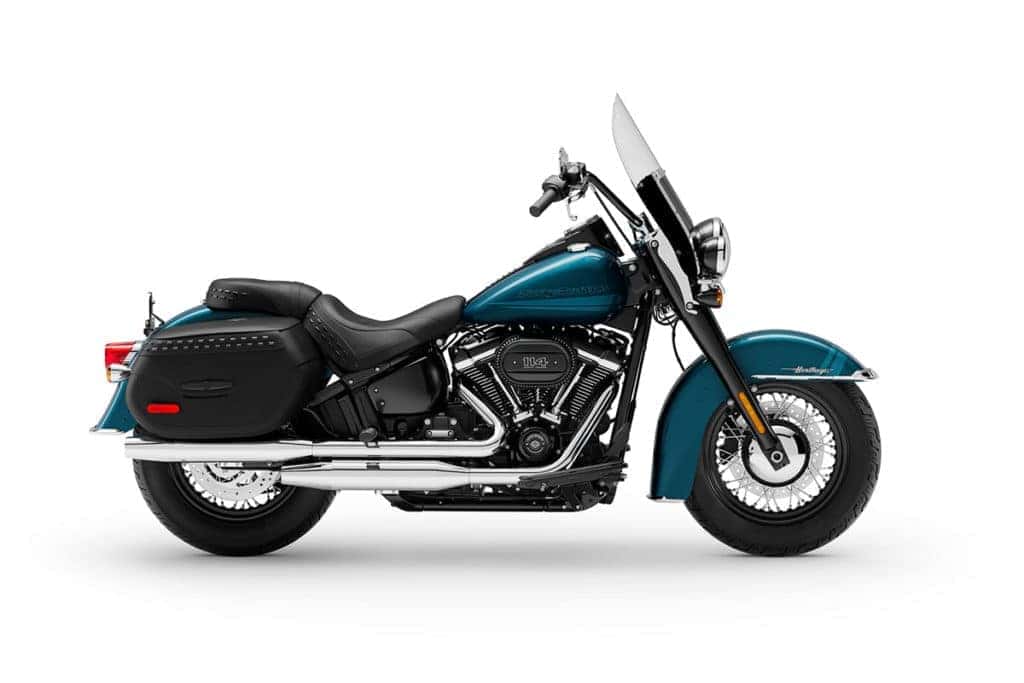 Welcome to the revamped classic — specifically, the 2020 Harley-Davidson Heritage Classic 114. Your father's bike is back for the modern era, and it's better than it has ever been. If you're looking for a bike that expertly blends the best of the old with the new, the new Heritage Classic is an exciting option.
Paint Options
The 2020 Harley-Davidson Heritage Classic 114 comes in a great selection of fender and gas tank paint options that let you match your bike to your style. The factory colors are Vivid Black, Billiard Burgundy, Silver Pine/Spruce, Billiard Red/Vivid Black, Tahitian Teal, and Scorched Orange/Silver Flux. The first four color options feature a chrome Harley badge and the last two have retro color-contrasting stripes with the Harley signature. For each paint option, the chrome accents against the blacked-out engine complete the Heritage Classic's atmosphere.
Styling (Features)
The vintage approach Harley-Davidson took in designing to the 2020 Heritage Classic brings us one of the sharpest-looking rides on the highway. Its classic Softail frame is lightweight, responsive, and good-looking to boot. The signature circular LED forward lighting system gives you excellent visibility during your night rides and looks tough during the day. The windscreen is easily detachable to let you customize your ride on the go.
The Heritage Classic's saddlebags give you 1.5 cubic feet to stash what you need to make your rides the best they can be. They're lockable and sealed, so you don't have to worry about your stuff when you're on foot. When you're ready to get into them, they open in one touch to make for quick access.
Your rides are smoother on a Heritage Classic, thanks to its high-performance front suspension and rear mono shock that improve your bike's handling while you're cornering.
The 2020 Heritage Classic 114 is 95.1 inches long with a 64.2-inch wheelbase. It has a 26.3-inch laden seat height and 4.7-inch ground clearance. As shipped, the Heritage Classic is 697 pounds and is 728 pounds heavy when in running order. From the parallel-cut front fender to the nostalgically long rear fender, the Heritage Classic looks the way bikes were meant to look — confident, tough, and sharp.
Engine
Whether you're looking for the perfect highway traveler or a bike that can excite your trips through city streets, the Heritage Classic is a versatile option that can fit your riding style.
The 2020 Harley-Davidson Heritage Classic 114 is built around a Milwaukee-Eight big twin engine that has a 114-cubic-inch displacement, 4.5-inch stroke, and a 4.016-inch bore. It gives you 119 pound-feet of get-up-and-go torque. The engine has a 10.5:1 compression ratio and a two-into-two short dual exhaust system. This bike has a 5-gallon fuel capacity and a 47-mpg fuel economy.
Take to the blacktop in a 2020 Harley-Davidson Heritage Classic 114 and you won't want to tour in anything else. Whether you're here for the nostalgia, or you just recognize the modern perfection of the Heritage, this bike will get you to where you want to be.