Riverside Harley-Davidson No. 1 new sales volume dealership for 2020

Years of success leads to expansion nearly doubling overall footprint
BY NICK LONGWORTH
POWERSPORTS BUSINESS, April 2021 Full Article
April 6, 2021 — In a year that saw many new and returning customers social distance on the open road under their own helmets, Riverside Harley-Davidson in Riverside, California, has been named the worldwide leader in new Harley sales.
Throughout 2020 the dealership sold 1,330 new bikes — a rate that averages more than three bike sales per day.
"We were over 300 bikes more than the second place dealer in the world. We're the only dealer in the world that sold more than 1,000 last year," Glen Espinoza, general manager at Riverside Harley-Davidson, told Powersports Business. "It takes a lot of hard work and dedication by our owner [Mike Veracka] and team. We were thrilled. Hard work pays off, and it's always a wonderful feeling to see that come to fruition."
Through an internal worldwide monthly ranking system, dealers are able to monitor their progress among their peers throughout the year  — essentially creating a competitive system among its dealer network. Sales in 2020 surpassed 2019 by 17% — during which period the dealership was named first again. And although its new sales amount to an impressive number, it doesn't account for pre-owned sales either.
"You don't know where other dealers rank, but you know your own ranking, and we were in the number one spot for literally the entire year," said Espinoza. "We just kept building and building from there, and had a really strong December as well."
"We look at our standings all the time — we want to be the best," said Michael Gunnell, Riverside Harley-Davidson general sales manager the last four years.
In total, the dealership has finished first in sales volume five times.
"There's so much dedication and hard work from our team that we're thrilled by [the continued success], but if I'm being honest we're also not surprised," said Espinoza. "We have hands-down the best owner who believes heavily in his team, community and marketing. And then the people. We have some of the most dedicated, committed and talented individuals in the industry."
"Our owner's commitment to the store bleeds on down to us and has helped our team grow," said Gunnell.
The dealership's 17% sales increase can be attributed to both an influx of new customers, as well as an expedited selling process in the wake of the pandemic onset, according to both Espinoza and Gunnell. Meanwhile, 2021 has so far tracked ahead of 2020 year-over-year.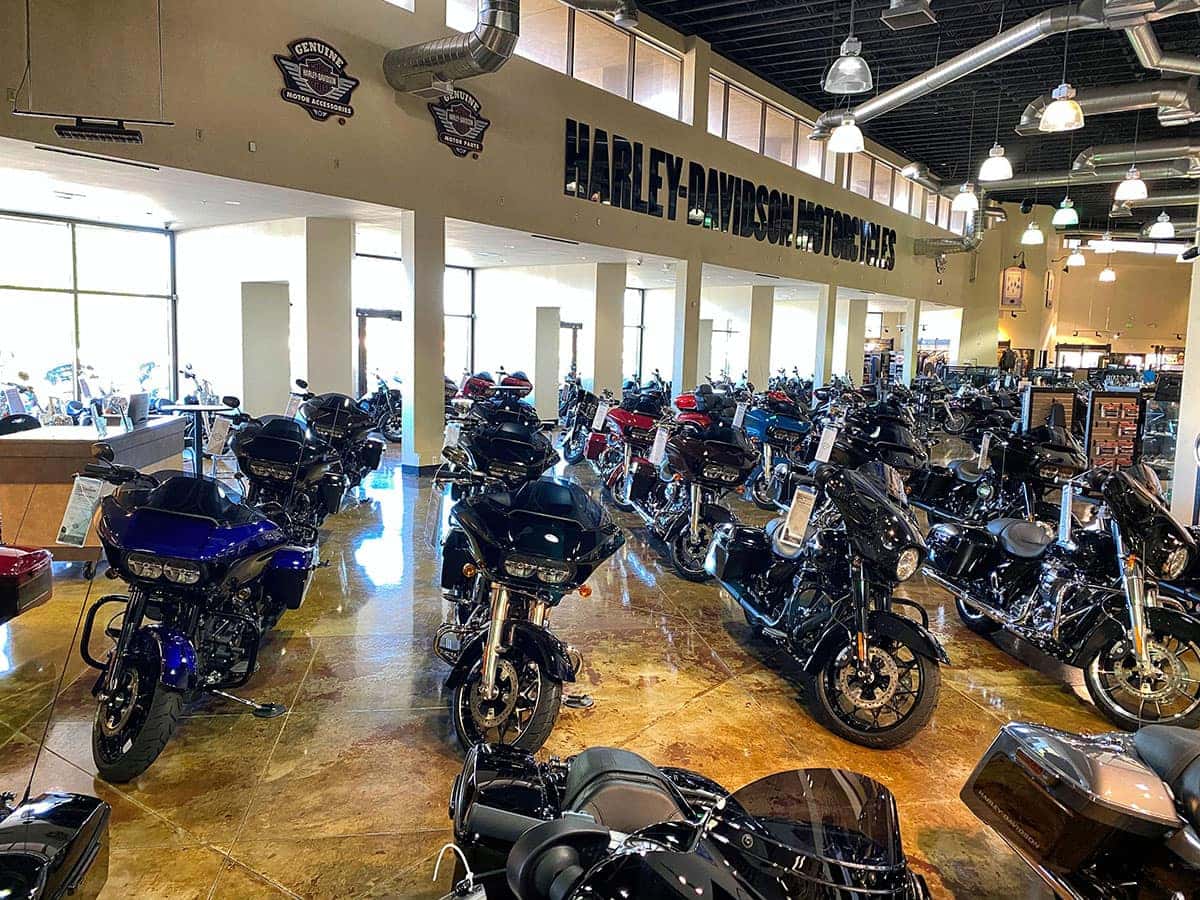 "With COVID we initially made a decision to become as educated as possible, and then we embraced the new guidelines. While adhering to them we were able to stay in operation and our customers rewarded us for it," Espinoza said. "They sought us out when they needed anything, and I would argue we picked up new clientele as well. We saw people coming through the doors that we weren't necessarily used to seeing."
"People wanted to get out and doing something, and get out the door; go for a ride and feel some freedom," said Gunnell. "Our customer base is tight-knit and has a loyalty to our dealership that's awesome."
According to Espinoza, the dealership remains satisfied with Harley's overarching Rewire and Hardwire strategies heading into 2021, and believe its launching of the new Pan America 1250 could help further propel sales.
"We're excited about the future of Harley. We've talked to our leadership, and think they have a solid team to help grow our brand and business, appealing to more customers. We feel like 2021 is going to be a big year for us, and are excited about it," he said.
EXTRA SALES EQUAL EXTRA SPACE
The dealership's continued success has not only led to sales recognitions — it's also led to further investment in its footprint from its owner. Riverside is expanding its location from 35,000 to 55,000 square-feet, in the process adding more event space and parking… CONTINUE READING FULL ARTICLE, INCLUDING INFO ABOUT OUR EXPANSION ON POWERSPORTSBUSINESS.COM.
---