Veterans Day | Honoring All Who Served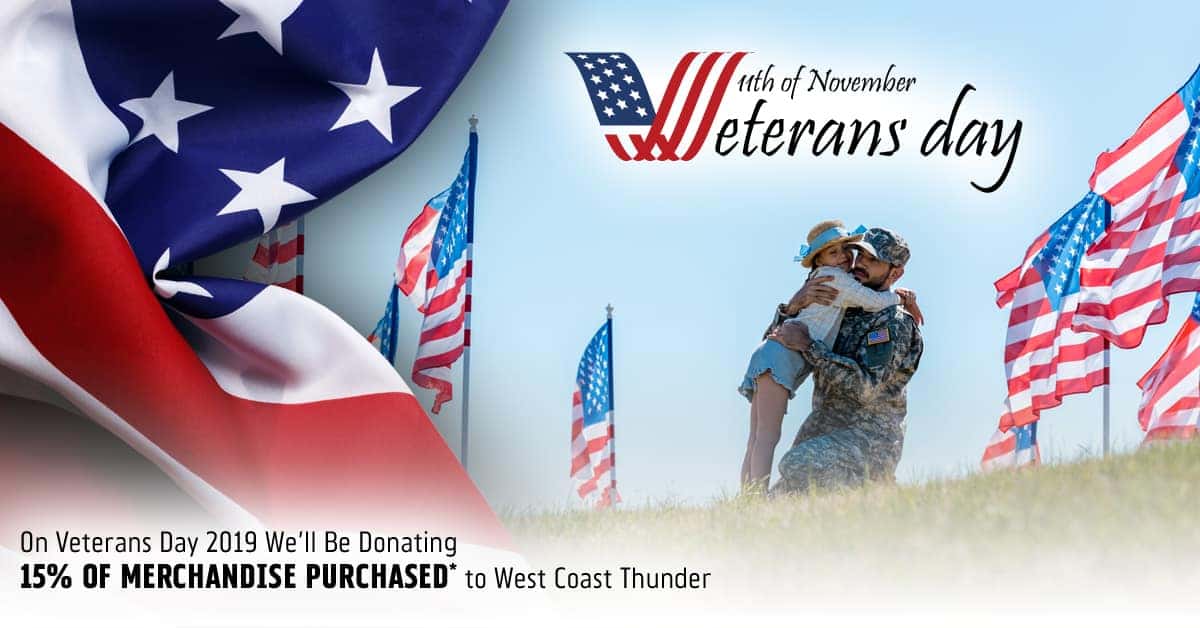 Veteran's Day is Monday, November 11, 2019
15% of Veteran's Day Parts & MotorClothes Sales
Benefiting West Coast Thunder
In honor of veterans we will donate 15% of Parts, Accessories and MotorClothes purchased on Veteran's Day, Monday, November 11, 2019 to West Coast Thunder.
Help us support veterans as we collect register round-up donations for West Coast Thunder all weekend long!
About West Coast Thunder
West Coast Thunder proceeds benefit the Riverside National Cemetery Support Committee with cemetery projects, including the purchase of flower cones, and honoring the indigent and unaccompanied veterans buried each month. The federal government provides little, if any, funds for monument construction at national cemeteries.
To date, West Coast Thunder has donated more than $1.2 Million and was largely responsible for erecting the Prisoner of War/Missing in Action Memorial on the cemetery grounds and repairs to the Medal of Honor Memorial.
In its 21st year, West Coast Thunder is the largest motorcycle event in Southern California and the event is a community staple. People from all over the country embark on this magnificent parade.
---
*11/11/19 dealership will donate 15% of pre-tax MotorClothes, general merchandise, parts and accessories sales, up to $1,000.00 to West Coast Thunder. Excludes sales tax, prior purchases, motorcycles, parts to service components and labor.
---
Wounded Warrior Project / Harley-Davidson Collaboration Items
Additionally, all year round, Harley-Davidson donates 10% of the sales of Wounded Warrior Project collaboration items to WWP. Harley's commitment to WWP is part of H-D Operation Personal Freedom to improve the lives of servicemen and women who are living with PTSD.
Wounded Warrior Project is a nonprofit whose mission is to honor and empower Wounded Warriors. WWP serves to raise awareness and enlist the public's aid for the needs of severely injured service men and women; help severely injured service members aid and assist each other; and provide unique, direct programs and services to meet their needs.
For more information, please call 877 TEAM WWP (832-6997) or visit woundedwarriorproject.org.
Veterans and their loved ones in crisis should call 1-800-273-8255 and Press 1 or chat online at VeteransCrisisLine.net to receive free, confidential support from the VA Veterans Hotline 24 hours a day, 7 days a week, 365 days a year, even if they are not registered with VA or enrolled in VA health care.
---
Thank-you to all who have served so we may enjoy our many freedoms here at home.